Output 1: Competency Framework
Competence framework for research-related digital competences, critical digital literacy and digital teaching competences.
Objective
The aim of IO1 is to create a competence framework that classifies the course content developed and thus makes it comparable and easier to apply. This is also in anticipation of micro-credentials. Such detailed information on competences is of great importance for various stakeholders: learners can better identify what they are learning and their skills, teachers can design curricula more effectively, employers can better assess the competences of candidates.
IO1 aims to make the content of courses more transparent and thus easier to use across borders and more sustainable.
Framework
We started by working on science-oriented competence development. Here it may be noted that competence development naturally continues throughout the scientific career and that very complex skills should be acquired in the process of scientific maturation. However, it is also clear that a large part of these competencies are acquired outside of structured learning environments. They are therefore certainly appropriate for describing research skills, but at least for the time being they go beyond the competence development that can be covered by curricula. On the other hand, we found it practicable to think and plan competencies from the end.
Our current solution is to start from the level of school leavers as level 2 for most competences and define the competences from there to the level of postdoctoral fellows. Although this exceeds the structured learning phase at the university, it covers the respective competence fields well.
Core: Research Cycle
We use the research cycle as a structuring framework. We have defined four main areas, namely Find, Plan, Implement and Share. These in turn consist of different sub-areas, which are probably more or less consensual. For didactic purposes, these sub-areas are also assumed to be one cycle each. Each of these sub-areas is described in 6 levels with descriptors. The competences of the cluster "Share" largely coincide with the competences described as information competence (e.g. DigComp, area 1).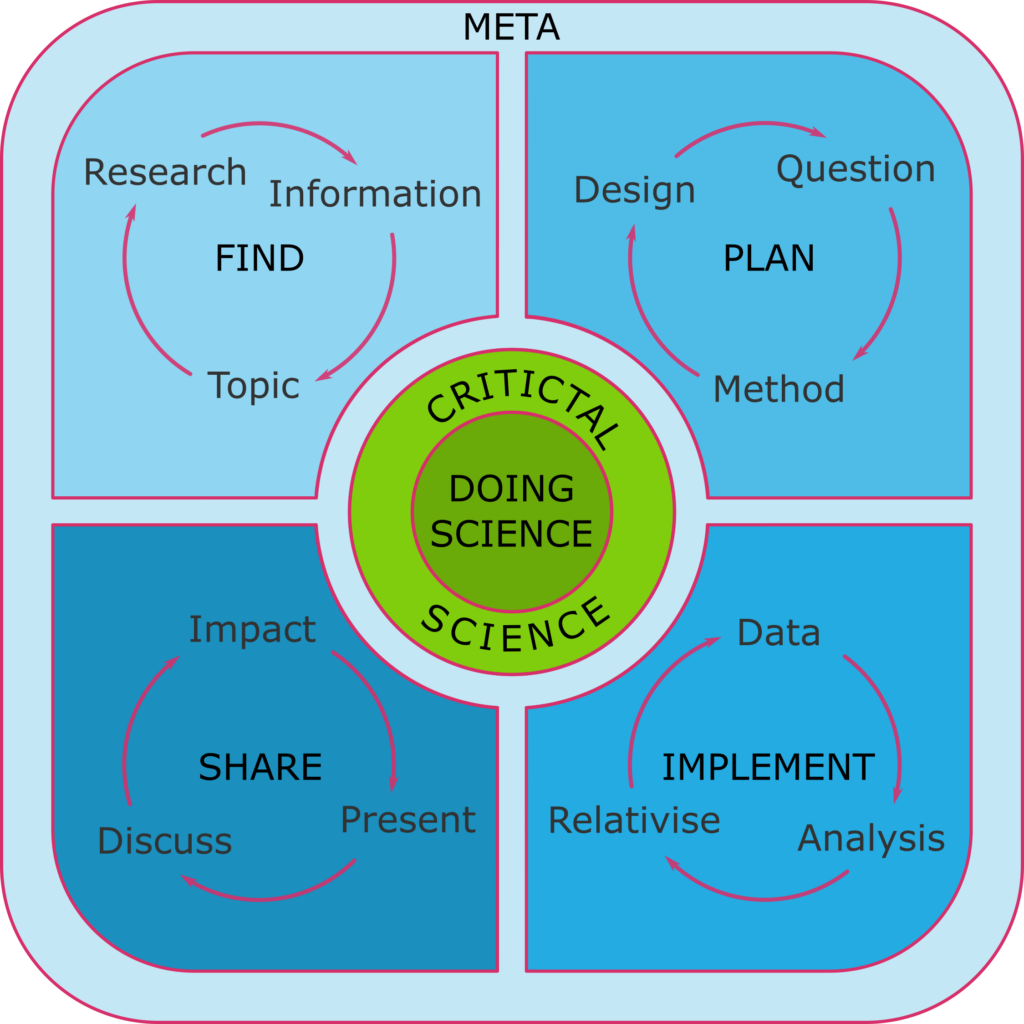 General competencies
In addition, we have defined three further areas of competence: Meta, Critical Competences and Doing Science. The meta category comprises knowledge about the functioning of science in general and its interaction with society. This competence, especially at the lower levels, is connectable to an important society-wide basic competence that should come to the fore especially in times of science scepticism. The critical level refers to the critical reflection on data, processes and roles in science. As a third overarching competence, we have added the cluster "Doing Science", which primarily aims to make clear the basic processes of research and the connections within the scientific community.
Overall, the model focuses on understanding and using scientific methods in the (academic and wider) society, as these will also be a central pivot in our course units. Elements such as research organisation, acquisition of third-party funding, leadership, which are mentioned in other competence frameworks that are also fully or partially aimed at research, therefore do not play a role in this concept for the time being.